Dogs from the PV Animal Shelter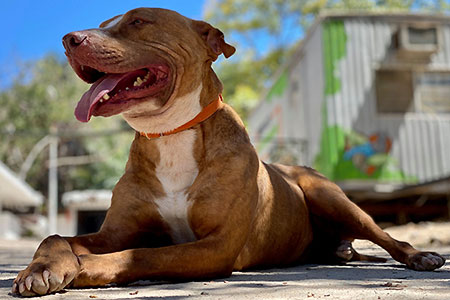 ¿When did he arrive at the centre?: 22-11-2018 – a stay of 1154 days
¿How did it arrive?: Alone
¿Where is it now? (kennel): At home
Gender: Male
Breed: Pitbull Mix
Size: Medium
Behaviour: Social
Age: 5 years, 6 months
Animal description: Reddish brown with light brindle pattern, lighter snout, brown nose, white stripe on his forehead. Slight malformation in one of his front paws and one of his ears. Very loveable.
A happy guy moderately active, very obedient and calm. Always smiling and waiting to be petted. For all types of families. Preferably to be the only dog at home. He's an alpha male
Adopted: 19-01-2022
If you wish to donate to help the animals at our shelter please click on the button below.
Medical Treatments Received at the Centre:
Sterilized: 04-12-2018
Tick and Flea Control
Blood Tests
De-worming
Vaccines
---